Cool Off This Summer With a Tart Treat at Mr. Yogato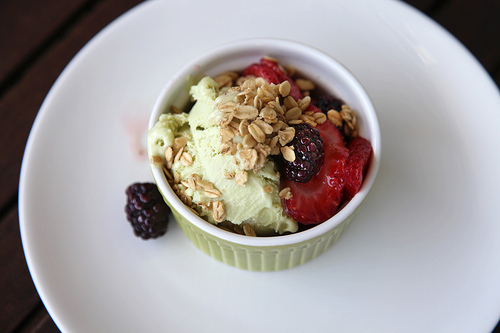 When things get hot in the summertime in D.C., consider swinging into the cool atmosphere at Mr. Yogato. This frozen yogurt shop offers customers unique ways to score discounts off your favorite dessert. Sing along with Mr. Roboto when he comes over the speaker system and you'll get 10% off, or wear a yogato stamp on your head, and you'll also get 10% off. If you're creative enough, suggest a topping or a flavor to the Mr. Yogato staff. If it gets adopted, you'll receive a 5% off discount for life!
Start with the perfect frozen yogurt size for your appetite, and then decide if you want one or two toppings, or if you want to go crazy and get a bunch. Original flavors are always available, and there are two unique flavors offered during the week as well. Mango, choco mint, spiced chai, and white chocolate are just a few of the options available. Top it as you wish with all sorts of toppings, including honey, cinnamon, pineapple, blueberry, kiwi, and more.
Mr. Yogato
1515 17th Street NW
Washington, DC 20036
202-629-3531
www.mryogato.com
www.yelp.com/biz/mr-yogato-washington