Fuel Up With a Cup of Joe or a Hearty Sandwich at Capitol Grounds Coffee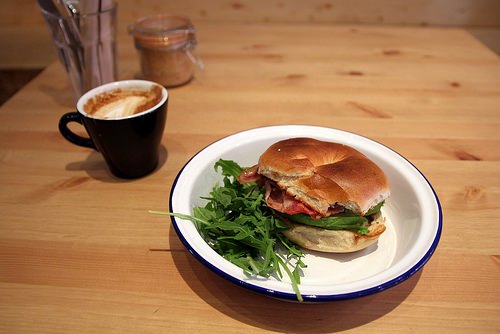 Capitol Grounds Coffee is a small, family-owned business that has diligently served students, staff, and nine-to-fivers in Foggy Bottom for the past fifteen years. Freshly brewed coffee is at the heart of the menu — not the pour-over, nitro-infused, third wave coffee that's become popular in recent years, but rather honest-to-goodness cups of joe made with premium beans.
In the mornings, add a bagel or a breakfast sandwich to the coffee you pick up on your way to work or class. Later in the day, take your pick from a selection of deli sandwiches and salads, and grab a smoothie or an iced coffee on your way out the door. The interior at Capitol Grounds Coffee is big enough to handle a crowd, but cozy enough to feel like a real neighborhood spot. The space itself is clean and bright, with plenty of window seating that's great for reading the paper or doing a bit of people-watching while you relax.