The Focus is on Smoked Fish and Live Music at Ivy City SmokeHouse Tavern and Market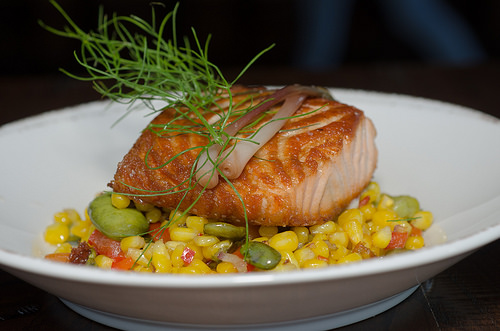 Ivy City SmokeHouse Tavern and Market hosts a live band or musician practically every night, and many of the shows are free and open to the public. From folksy crooners to live DJs, the lineup of performers offers something for everyone. If you're into live music, check out the roster of upcoming shows, and if you're not, you'll still want to come in for the food.
True to its name, Ivy City SmokeHouse specializes in fish smoked in-house. Kick off your meal with an order of the signature "salmon candy," which is smoked salmon infused with honey and heat, or the SmokeHouse fish board with five different types of smoked fish. Then, share a few starters, like the steamed clams and garlic shrimp, or move right onto your entree. You can't go wrong with the fried shrimp po'boy, served with a spicy remoulade, but the menu also boasts jumbo lump Maryland crab cakes, crispy fish tacos, and smoked spare ribs, to name just a few of the dishes.